Advantages — overhead crane Service
Efficient, Quality Material Handling Systems are Critical to Industrial Users' Productivity
Heavy manufacturing and steel service industries rely on the use of cranes for high-capacity utilization in efficient storage, flexibility of products handling and faster response times to meet just-in-time delivery.

Midd Cities Industrial Park has the largest selection of overhead crane-served buildings in the Midwest and offers a wide variety of amenities to suit most heavy manufacturing or steel service users. Regarding crane service, this site features:
Multiple overhead-crane buildings with 19 cranes overall
Crane service with capacities up to 60 tons
Flexible crane span ranges up to 110 feet
Some have the highest duty cycle up to Class D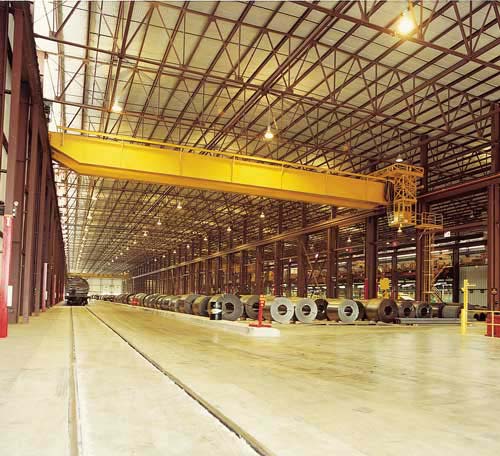 Heavy industrial handling systems need to perform increasingly faster, with more operational flexibility and, at safe and efficient speeds. All Midd Cities' crane systems are professionally maintained to the highest standards to ensure efficiency and reliability. Many are controlled by means of a pendant switch or interactive radio control that allows operation from a safe distance.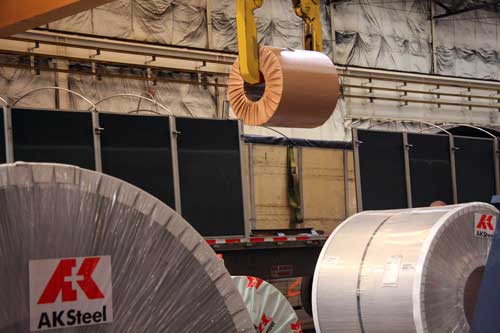 Looking to relocate or expand your steel service center operations?
Midd Cities Industrial Park can accommodate a wide variety of client requirements including buildings that have crane capacities up to 60-tons and is ideally suited as a steel service center.
We offer competitive market rates and flexible lease terms.
For more information about available buildings, call SqFt Commercial at 513-843-1600.
---
On-site overhead cranes offer capacity and span range flexibility.